Latest News
See who's talking about #MonumentalWomen.
---
CBS Sunday Morning
Putting Women On a Pedestal
May 26, 2019
---
Gothamist
Here's The Shirley Chisholm Monument Coming To Brooklyn In 2020
By Jen Carlson, April 24, 2019
---
March 27, 2019
Our Monumental Women program on "Lessons Learned from the Woman Suffrage Movement" was a big hit on March 27th. Special thanks to Lynn Sherr, Marjorie Spruill, and Judaline Cassidy for a wonderful discussion held at the New-York Historical Society. The room was beautiful and people got a chance to talk with each other over refreshments before and after the program. Thanks to all who worked so hard to make the evening a success.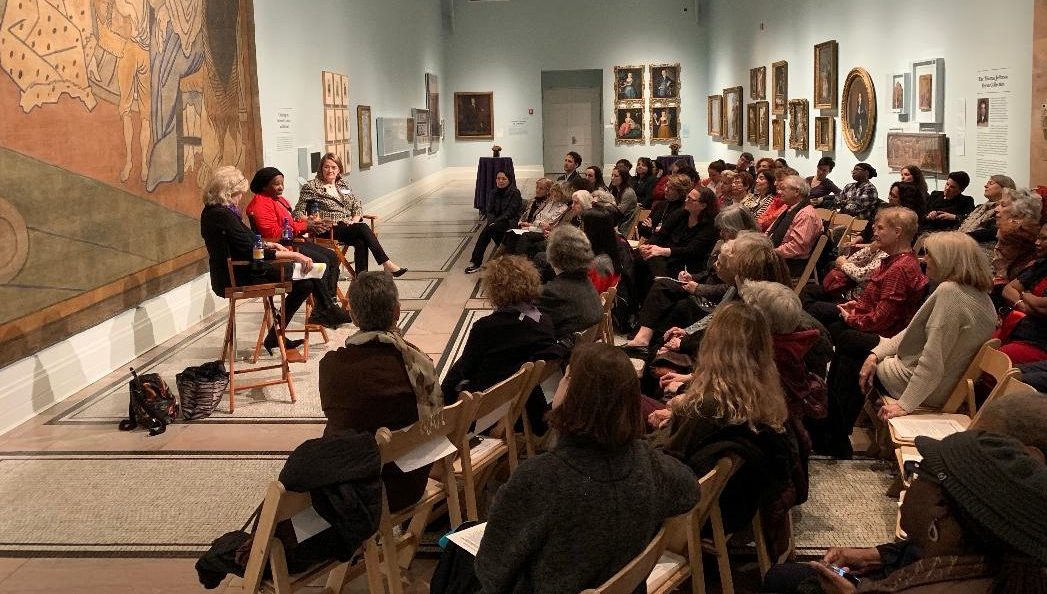 ---
Fordham News
Volunteers Attempt to Fill the Gender Gap on Wikipedia
By Tom Stoelker, March 8, 2019

---
Hearing On New York City Monuments
Testimony From The Stanton And Anthony Statue Fund And Our Monumental Women Campaign
City Council, City Hall, February 25, 2019

---
Robin Morgan
Women's Suffrage(s)– Part 1
By Robin Morgan, February 11, 2019

---
6sqft
The story behind Harlem's trailblazing Harriet Tubman sculpture
By Lucie Levine, February 8, 2019

---
Milk
Artist of the Week: Meredith Gang Bergmann
By Emily Barnes, October 22, 2018

---
Future Hindsight (Podcast)
Pam Elam and Namita Luthra
August 24, 2018

---
Democrat and Chronicle
Lynn Sherr: Statue of NO limitations
August 23, 2018

---
MetroFocus
Bronze Barrier Broken
August 8, 2018

---
amNewYork
Central Park's first monument to real women to honor many who fought for the right to vote
By Nicole Brown, July 30, 2018

---
The Guardian
'It's about time': Central Park's first historical female monument to arrive in 2020
By Nadja Sayej, August 2, 2018

---
New-York Historical Society
"Breaking the Bronze Ceiling": The Elizabeth Cady Stanton and Susan B. Anthony Woman Suffrage Movement Monument
July 24, 2018

---
NY1
Statue of Elizabeth Cady Stanton and Susan B. Anthony coming to Central Park
By Van Tieu, July 20, 2018

---
Fox 5 News
The Elizabeth Cady Stanton and Susan B. Anthony Statue Fund
July 19, 2018
---
NBC NY
First Central Park Statue to Depict Real Women Coming in 2020
By Sarah Kolodny, July 24, 2018
---
CBS NY
First Ever Central Park Statue To Honor Women
July 20, 2018
---
NY Daily News
Sculptor chosen to design the first statues of real women in Central Park
By Mikey Light & Joe Dziemianowicz, July 19, 2018
---
Gothamist
Here's The First Statue Depicting Real Women In Central Park, Coming In 2020
By Jen Carlson, July 20, 2018
---
Makers
Central Park To Build A Monument to Commemorate Real Women At Last
By Paulina Cachero, July 20, 2018
---
Central Park Patch
Design For Central Park's First Monument To Women Revealed
By Brendan Krisel, July 20, 2018
---
6sqft Blog
Design unveiled for Central Park's first statue dedicated to real women
By Lucie Levine, July 20, 2018
---
Business Wire
The Statue Fund Announces The Elizabeth Cady Stanton and Susan B. Anthony Woman Suffrage Movement Monument Design Competition Winner
July 19, 2018
---
NY Daily News
Correcting monumental injustices: Slowly but surely, our public spaces are getting the statues that women deserve
By Lynn Sherr, July 16, 2018

Library Of Congress
Archival Materials of Susan B. Anthony and Elizabeth Cady Stanton Now Online at Library of Congress
March 27, 2018
---
PR Newswire
Old Navy "Flower Empowers" NYC's Historical Female Statues In Celebration Of International Women's Day
March 8, 2018
---
Forbes
The Five Female Historical Statues In New York City Are Decorated For International Women's Day
By Elana Lyn Gross, March 8, 2018
---
New York Daily News
Old Navy decorates female statues in NYC with flowers in honor of International Women's Day
By Leonard Greene, March 8, 2018
---
Extra TV
Old Navy 'Flower Empowers' Female Historical Statues for International Women's Day
March 8, 2018
---
Time Out New York
Fearless Girl and NYC's statues of women are decked out in flowers today
By Clayton Guse, March 8, 2018
---
Women In The World
Johnnie Walker substitutes 'Jane Walker' mascot in honor of Women's History Month
March 1, 2018

---
Scottish Field
Johnnie Walker Releases New Jane Walker Whisky Label
February 28, 2018
---
The Telegraph
8 businesses that are supporting women this International Women's Day
By Sameeha Shaikh and Jamie Johnson, March 8, 2018
---
PR Newswire
Johnnie Walker Launches Johnnie Walker Black Label The Jane Walker Edition, Donating $1 For Every Bottle Made To Organizations Championing Women's Causes
February 26, 2018
---
amNewYork
Finalists for Central Park women's suffrage monument unveiled
By Lisa L. Colangelo, March 14, 2018
---
West Side Rag
Finalists Chosen to Craft Elizabeth Cady Stanton/Susan B. Anthony Statue in Central Park, as Girl Scouts Contribute
March 15, 2018
---
Central Park Patch
Final Designs Selected For Central Park's First Statue Of Women
By Brendan Krisel, March 14, 2018
---
Press Release
The Statue Fund Announces Finalists for The Elizabeth Cady Stanton and Susan B. Anthony Woman Suffrage Movement Monument
March 8, 2018
---
Ms. Magazine
Monuments Matter: Seeking Sacred Space to Remember Women's History
By Namita Luthra, December 11, 2017
---
Chelsea Now
Monument to Suffrage Pioneers to Break Central Park 'Bronze Ceiling'
By Tequila Minsky, November 20, 2017
---
Manhattan Express
On NYS Suffrage's Centennial, Celebrating New Push to Honor Pioneers
By Tequila Minsky, November 16, 2017
---
West Side Rag
How West Side Rag — and Mostly New York Life — Helped Break Ground for a Groundbreaking Statue
By Carol Tannenhauser, November 8, 2017
---
Central Park Patch
New Central Park Statue To Commemorate Women's Suffrage Movement
By Brendan Krisel, November 7, 2017
---
NY1 News
Monument To Honor Women's Suffrage To Be Placed In Central Park
By Angi Gonzalez, November 7, 2017
---
amNEWYORK
Central Park's Literary Walk to house women's suffrage monument
By Lisa L. Colangelo, November 6, 2017
---
ABC7NY
Women's Suffrage Monument Planned For Central Park
By Lauren Glassberg, November 06, 2017
---
The New York Times
Why We Should Put Women on Pedestals
By Julia Baird, September 4, 2017
---
TIME
Inside the Push for More Public Statues of Notable Women
By Maya Rhodan, August 17, 2017
---
Town & Country
There are no Female Statues in Central Park
By Natalina Lopez, June 29, 2017
---
MetroFocus
Sexism in Central Park?
April 6, 2017
---
CNN
Where are the women? New effort to give them just due on monuments, street names
By Shachar Peled, March 8, 2017
---
Time Out New York
Eight Badass Women Who Are Making A Difference
By Taya Kenny, March 9, 2017
---
Women You Should Know
Why These Girl Scouts Are Fighting For Monumental Change In NYC's Central Park
March 1, 2017
---
TIME for Kids
Where are the Women?
March 2017
---
Women You Should Know
Public Service Announcement for the Statue Fund
February 21, 2017
---
Huffington Post Parents
These Girl Scouts are Fighting Sexism in Central Park
By Caroline Bologna, January 31, 2017
---
The Gothamist
There Are Nearly 150 Historical Male Statues In NYC, And Only 5 Female Statues
By Jake Offenhartz, January 18, 2017
---
New York Daily News
Girl Scouts Hope to Turn Central Park into Suffragette City with Statues of Susan B. Anthony, Elizabeth Cady Stanton
By Stephen Rex Brown, January 11, 2017
---
NY1
Girl Scouts Make Push to Erect Suffragette Statues in Central Park
By Roger Clark, January 11, 2017
---
Inside Philosophy
Ever Wonder Why There are so Few Public Statues of Women? This Funder Did
Kiersten Marek, December 29, 2016
---
DNA Info
Push to Bring First Women's Monument to Central Park Gets $500K Boost
By Emily Frost, November 29, 2016
---
Business Wire
The Elizabeth Cady Stanton and Susan B. Anthony Statue Fund and the New York Life Insurance Company Join Forces to Break The Bronze Ceiling in New York City's Central Park
November 28, 2016
---
FOX 5 NY
Where are Statues of Women in Central Park?
By Baruch Shemtov, October 13, 201
---
Associated Press – The Big Story
Bronze ceiling: Girls Seek Statue of Woman for Central Park
By Verena Dobnik, October 9, 2016
---
Time Out New York
This Campaign Wants to Build the First-ever Monument to a Woman in Central Park
By Jillian Anthony, October 4, 2016
---
WABC TV Channel 7 Eyewitness News
Girl Scout Troop Campaigning for Female Historical Statue in Central Park
By Lucy Yang, October 3, 2016
---
DNA Upper West Side & Morningside Heights
Girl Scouts Give Boost to Push for Monument to Women in Central Park
By Emily Frost, October 3, 2016
---
West Side Rag
Group Raising Money to Create First Statue of Woman in Central Park
August 26, 2016
---
Central Park Patch Community Corner
Volunteer Group Raising Money to Build First Central Park Statue Honoring a Woman
By Brendan Krisel, August 24, 2016
---
Smithsonian.com
It's Way Too Hard to Find Statues of Notable Women in the U.S.
By Danny Lewis, February 29, 2016
---
Women's Media Center Live
Statue Fund President Pam Elam interview
By Robin Morgan, September 25, 2015
---
WAMC's 51 %
Statue Fund Vice President Myriam Miedzian interview
By Allison Dunne, September 25, 2015
---
SmithsonianMag.com
Central Park Has 22 Statues of Historical Figures. Every Single One is a Man.
By Erin Blakemore, July 22, 2015
---
WPIX TV 11
Where are the statues of (real) women in Central Park?
By Kristina Behr, July 14, 2015
---
CBS News
Movement on to get women's suffrage pioneers bronze statues in Central Park
By Lou Young, July 13, 2015
---
NYMagazine.com/The Cut
Central Park does not have any statues of actual historical women
By Erica Schwiegershausen, July 13, 2015
---
New York Times
Fighting to bring women in history to Central Park
By Chadwick Moore, July 12, 2015
---
Chicago Maroon
Enstating statues in honor of women on campus would combat national patriarchy.
By Asya Akça, March 3, 2015
---
New Haven Register
Forum: Time to see more real women in public spaces
By Rhea Hirshman, November 17, 2014
---
Reuters
Not one woman gets her own pedestal among Central Park's statues
By Chloe Angyal, September 5, 2014
---
Women's Voices For Change
The Campaign to honor real women in Central Park's statues
September 3, 2014
---
Identities.Mic
Why are there no real female icons represented in Central Park?
By Marcie Bianco, September 2, 2014
---
Women You Should Know
She's taking on New York City to fight a 150-year-old injustice to women
August 27, 2014
---
Huffington Post
Time to remember the ladies in Central Park
By Myriam Miedzian & Gary Ferdman, March 18, 2013
---
New York Times
Put More Women on a Pedestal
By Lynn Sherr, June 14, 1993