New Amended Design Coming Soon!
Please Note: The New York City Public Design Commission has made changes to our original design. The PDC has removed the scroll which included 22 diverse suffrage leaders and the ballot box. Discussions with the PDC are ongoing.
On July 19, 2018, The Elizabeth Cady Stanton and Susan B. Anthony Statue Fund, Inc., held a press conference, on the 170th anniversary of the opening day of the Seneca Falls Women's Rights Convention, to announce the sculptor and winning design for The Elizabeth Cady Stanton and Susan B. Anthony Woman Suffrage Movement Monument Design Competition at The New-York Historical Society.
>> Read the full press release <<
Meet The Sculptor: Meredith Bergmann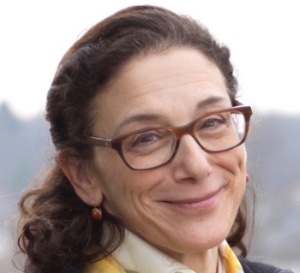 Examples of her past work:
Boston Women's Memorial (Abigail Adams, Phillis Wheatley and Lucy Stone), Commonwealth Ave., Boston, MA; FDR Hope Memorial, Roosevelt Island, NYC; Marian Anderson, Converse College, Spartanburg, SC; Memorial to Countee Cullen, Bronx Council on the Arts, NYC; September 11th Memorial, Cathedral of St. John the Divine, NYC; and Ruth Bader Ginsburg, in collections of Justice Ginsburg and Columbia University.
Meredith was awarded the Cooper Union Alumni Association's Augustus Saint-Gaudens award for "professional achievement in art" in May, 2019.
View more of her work on her website: meredithbergmann.com
The statue design includes Susan B. Anthony, Elizabeth Cady Stanton, and Sojourner Truth.  All three are remarkable and monumental women's rights pioneers who were New Yorkers and contemporaries. Nationally-recognized sculptor Meredith Bergmann shows Anthony, Stanton, and Truth working together in Stanton's home, where it is historically documented they met and spent time together.
"The three figures each represent an essential aspect of activism.  Sojourner Truth is speaking, Susan B. Anthony is bringing documentation of injustice, and Elizabeth Cady Stanton is poised to write. Girls and boys who encounter this monument will see a positive image of diverse women working together to change the world,"  – Meredith Bergmann