New Amended Design Coming Soon!
Please Note: The New York City Public Design Commission has made changes to our original design. The PDC has removed the scroll which included 22 diverse suffrage leaders and the ballot box. Discussions with the PDC are ongoing.
On July 19, 2018, The Elizabeth Cady Stanton and Susan B. Anthony Statue Fund, Inc., held a press conference, on the 170th anniversary of the opening day of the Seneca Falls Women's Rights Convention, to announce the sculptor and winning design for The Elizabeth Cady Stanton and Susan B. Anthony Woman Suffrage Movement Monument Design Competition at The New-York Historical Society.
>> Read the full press release <<
Meet The Sculptor: Meredith Bergmann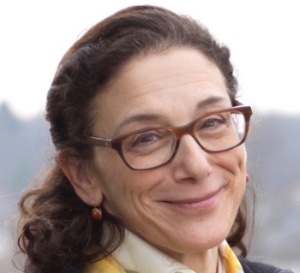 Examples of her past work:
Boston Women's Memorial (Abigail Adams, Phillis Wheatley and Lucy Stone), Commonwealth Ave., Boston, MA; FDR Hope Memorial, Roosevelt Island, NYC; Marian Anderson, Converse College, Spartanburg, SC; Memorial to Countee Cullen, Bronx Council on the Arts, NYC; September 11th Memorial, Cathedral of St. John the Divine, NYC; and Ruth Bader Ginsburg, in collections of Justice Ginsburg and Columbia University.
Meredith was awarded the Cooper Union Alumni Association's Augustus Saint-Gaudens award for "professional achievement in art" in May, 2019.
View more of her work on her website: meredithbergmann.com
The statue design includes Susan B. Anthony, Elizabeth Cady Stanton, and Sojourner Truth. All three are remarkable and monumental women's rights pioneers who were New Yorkers and contemporaries. Nationally-recognized sculptor Meredith Bergmann shows Anthony, Stanton, and Truth working together in Stanton's home, where it is historically documented they met and spent time together.
"I have worked for decades for social justice and historical redress through my art, using my artist's imagination to create empathic representations of diverse, inspiring people. For Monumental Women's Statue of Women's Rights Pioneers on the Central Park Mall, I have designed an allegory of women's rights activism: Sojourner Truth is speaking, Susan B. Anthony is organizing, and Elizabeth Cady Stanton is writing. Sojourner Truth sits with Elizabeth Cady Stanton at a small table, perhaps on the occasion of a conference for the abolition of slavery or for women's rights or for both, as these movements were, for much of their history, joined in activism. Susan B. Anthony is standing behind the table with her traveling bag, bringing documentation of injustices to help focus the discussion.
The women might be meeting in Stanton's home, where both Sojourner Truth and Anthony were guests. The monument represents an indoor space because much of women's political work originated in the home; in the 19th Century women were not commonly seen in the public sphere. This monument, in keeping with the other monuments on Literary Walk, is not a copy of a photograph or a representation of an actual historical moment, but an imaginative, allegorical representation of famous, important people involved in the unending struggle for greater justice in America. I am committed to representing both the sisterhood among these activists and their differences.
My hope is that all people, especially girls and boys, will be inspired by this scene of women of different races, religious backgrounds and economic status working together to change the world. My current design has been submitted to the NYC Public Design Commission and Monumental Women looks forward to sharing it with everyone as soon as the organization receives permission to do so from the PDC." – Meredith Bergmann