The Women's Rights Pioneers Monument
August 26th, 2020 — Monumental Women unveiled the first statue of real women the Women's Rights Pioneers Monument of Sojourner Truth, Elizabeth Cady Stanton and Susan B. Anthony in Central Park, on the occasion on the 100th anniversary of the ratification on the 19th amendment and women winning the right to vote.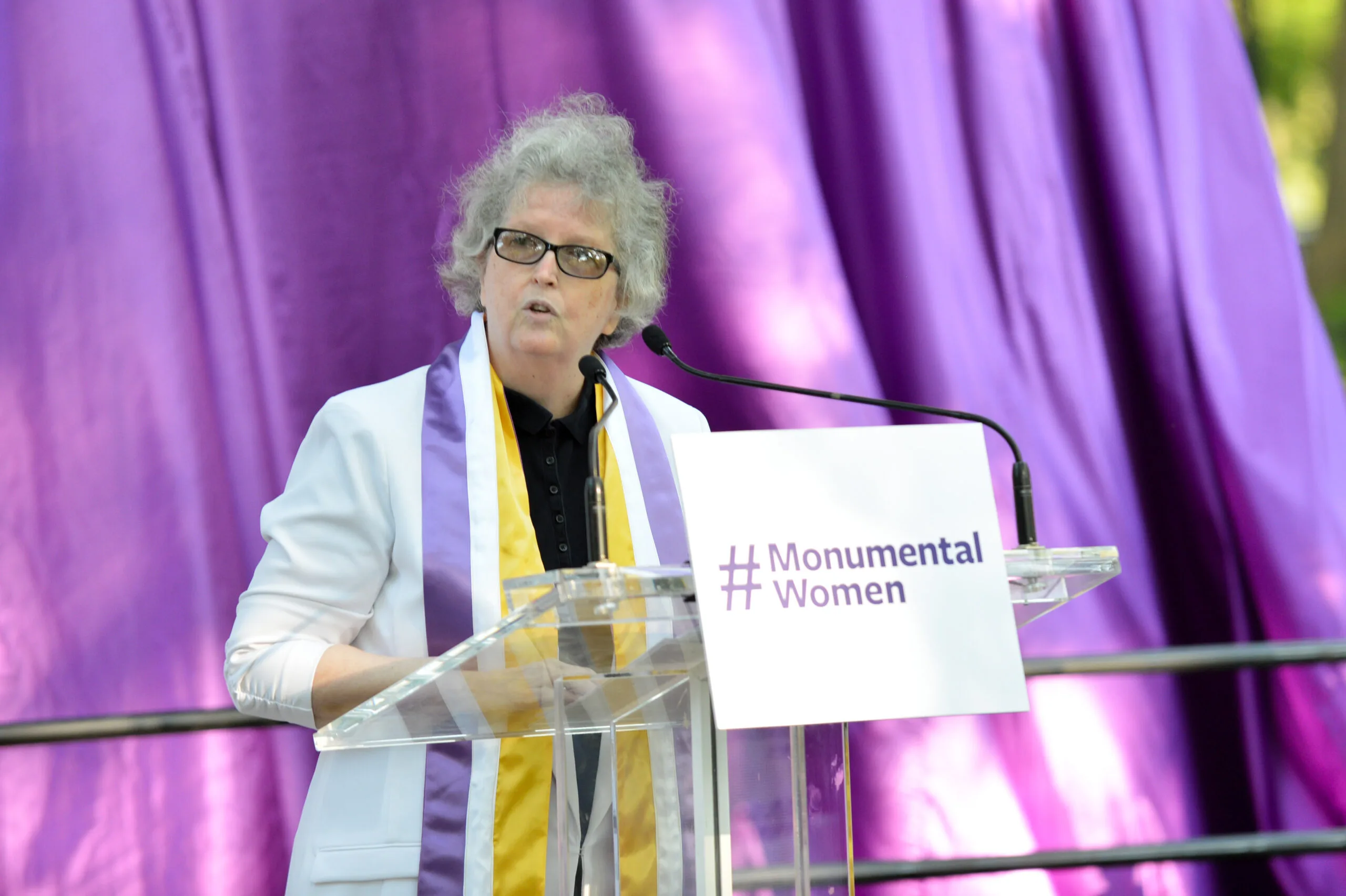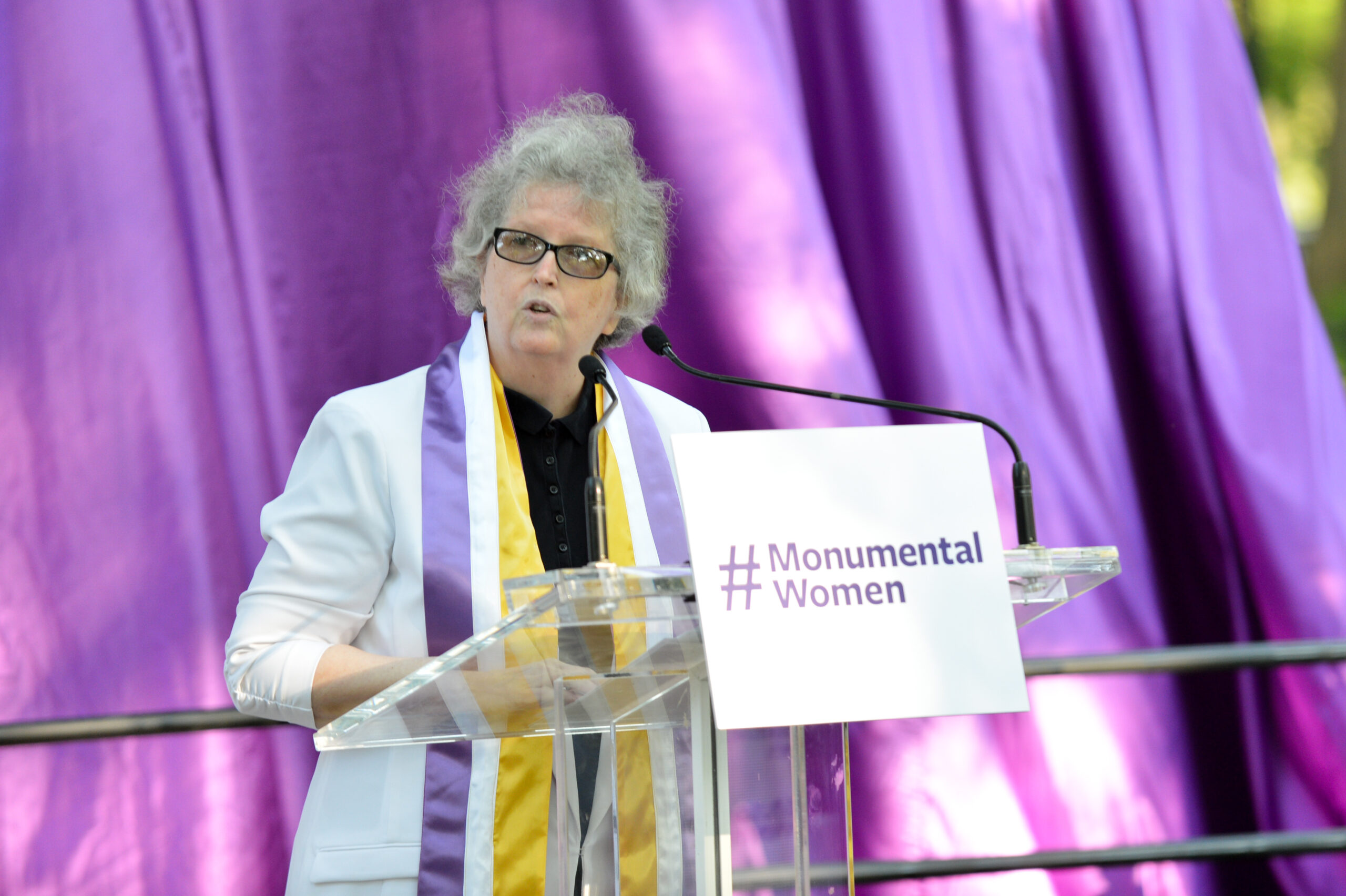 August 26th speech by Pam Elam
"We are here to move history forward and not even a pandemic can stop us. It's not often that you have the chance to be part of something truly historic. So, let's make the most of it by redefining history to include all of us, by understanding that history is all around us and that we are all historians trying to re-think the past in order to reshape the future. For what we all seek is nothing less than a full and fair historical record that reflects and respects the contributions of all women and people of color. We won't stop until we win that. But today – we celebrate!
Read the full transcript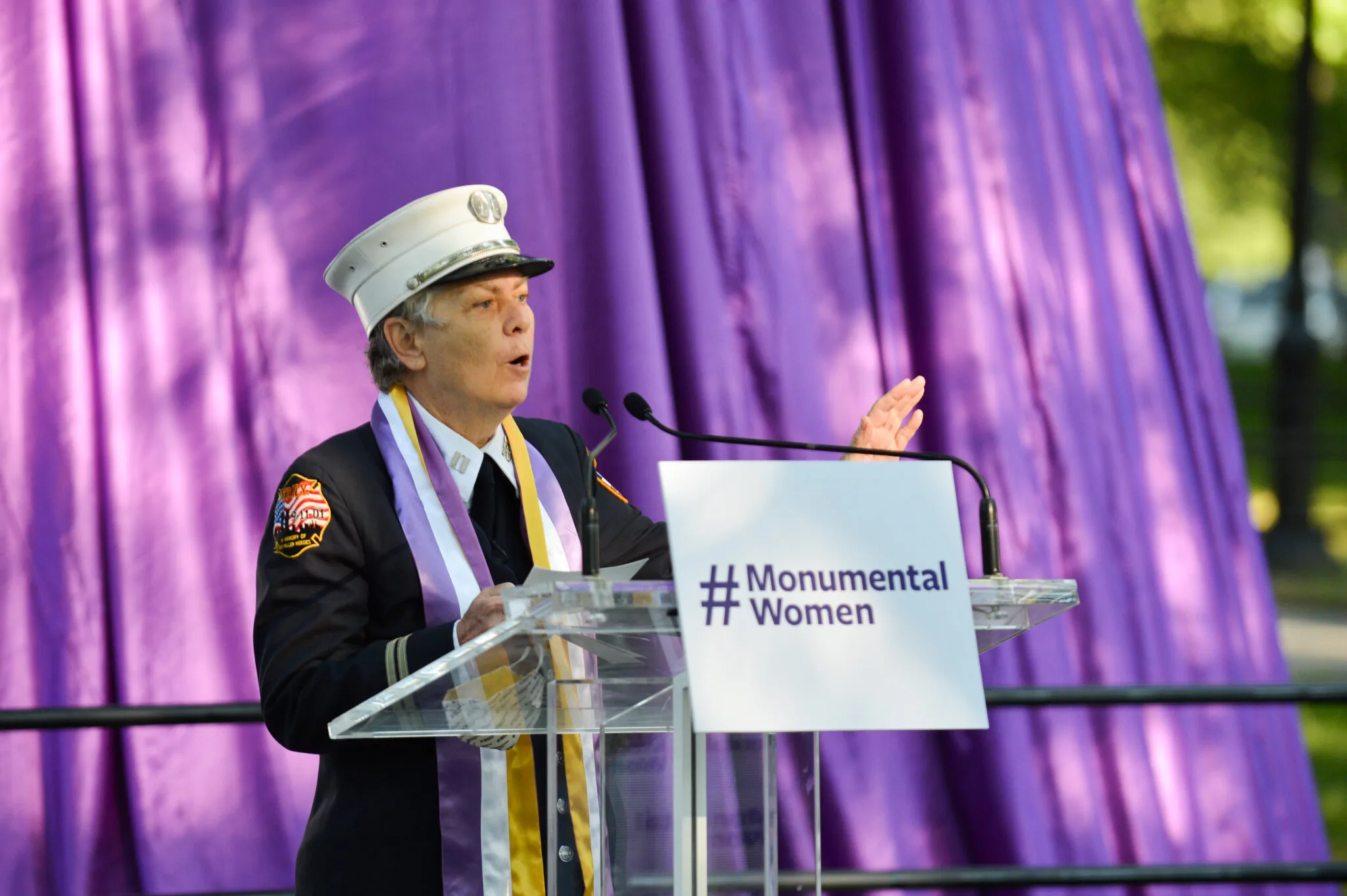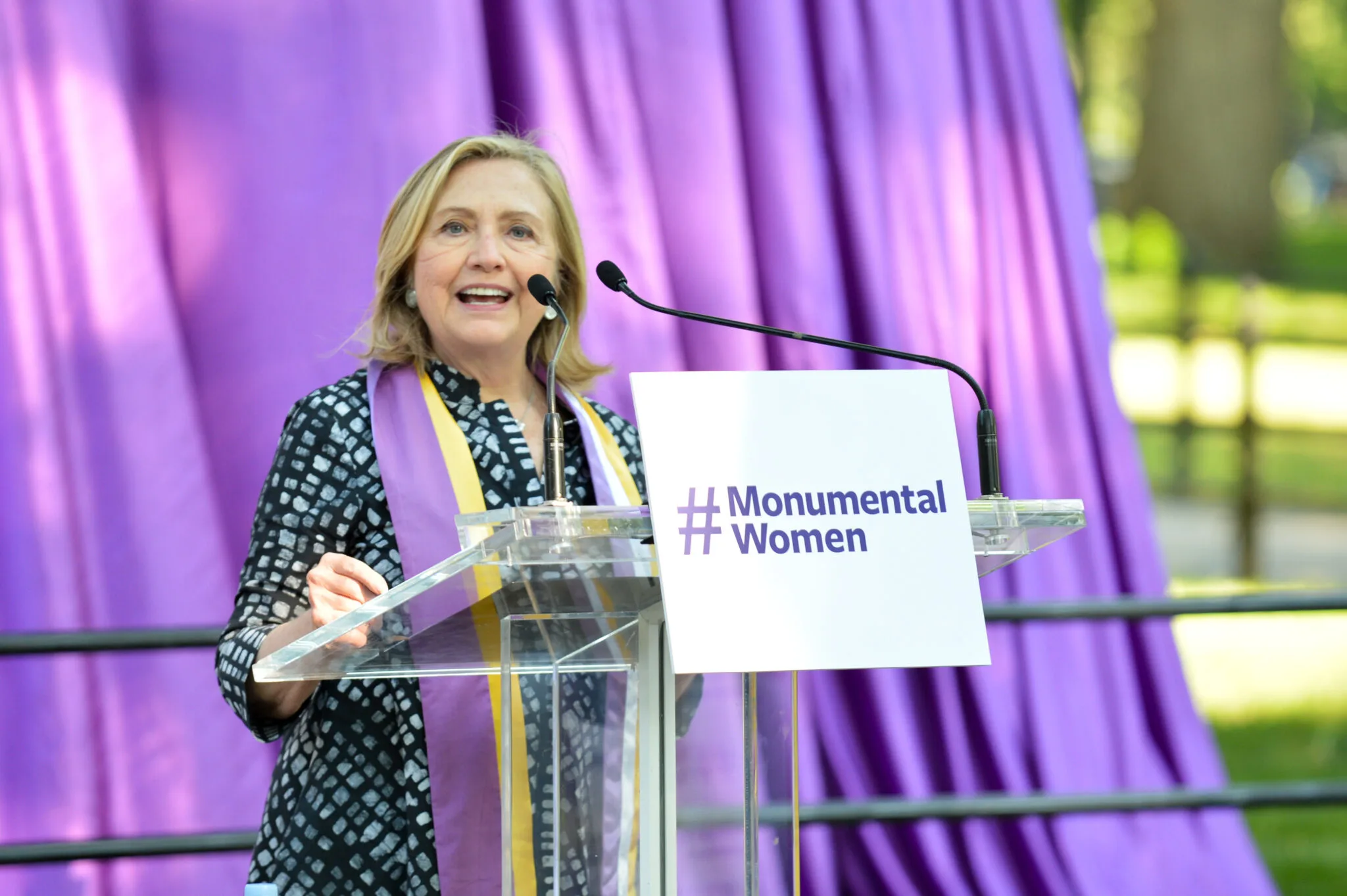 Excerpt from August 26th speech by Hillary Clinton
"I'm also really pleased that we could gather today for this event because with all that's going on that wasn't guaranteed, but it seems especially appropriate that today on Women's Equality Day, we are unveiling a new statue in Central Park for the first time in over six decades. The first statue of real, non-fictional women…the first statue of an African-American…and significantly, a statue that depicts three great Americans working together… So, our charge now, as we stand in the great river of history, is to take the stories of the women in this stature and carry them forward into our schools, into the media, onto social media, and into our lives.I hope everyone will promote not only the statue, but the Monumental Women's undertaking in ensuring that this is the first of many statues of pioneering women. There's nothing more important, however, to honor the women portrayed in this statue, than to vote. That is the best way to lead America, as the suffragists used to say, "forward through the darkness, forward into light." Thank you for making sure we are reminded of that here in Central Park."
Read the full transcript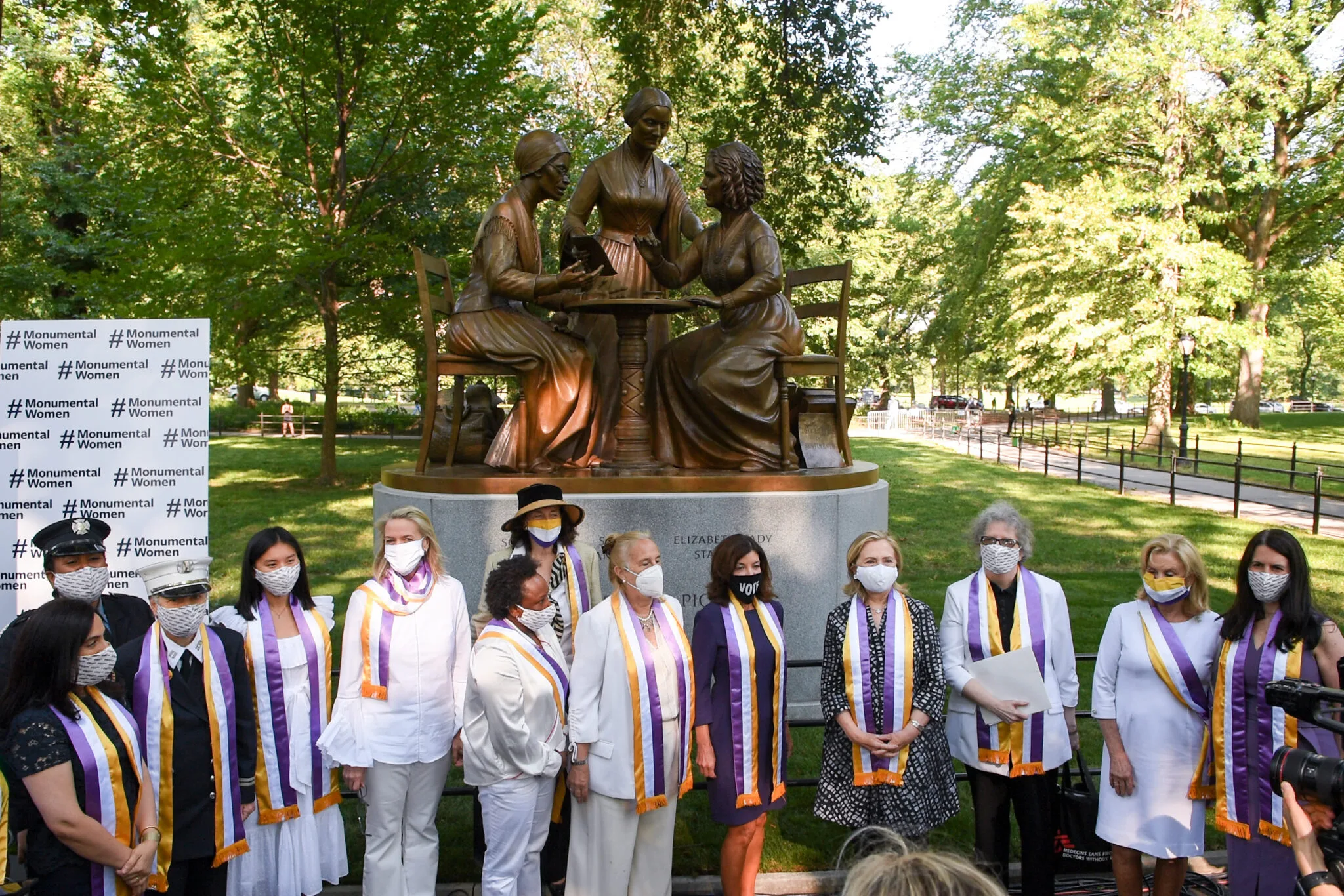 The Unveiling
By Brenda Berkman
Monumental Women was venturing into uncharted territory by attempting an unveiling ceremony in the midst of a pandemic. What had been envisioned as a day of celebration involving thousands descending on Central Park from all over the country necessarily had to become a "press conference" with a small number of socially-distanced guests. At any moment, our event in the Park could have been cancelled if there had been a resurgence of the virus. Every part of the program was videotaped – even the live speeches were recorded. Buying 100 disposable raincoats must have caused the weather goddess to smile upon us with one of the most beautiful days of 2020.
Planning and executing the unveiling ceremony took an enormous amount of effort over a period of months. Toward the end, 12-hour days 7-days a week were the norm for our Board President Pam Elam and Board Member Brenda Berkman. Appreciation also goes to Board Members Ariel Deutsch, Heather Nesle and Namita Luthra for many contributions made over several months. David Spaulding and his firm Phillips Gold & Co put in substantial pro bono time on the project, and Gary Ferdman and Ellen Chesler also helped with important components. Other partners in the work for the ceremony included a monumental effort by Penelope Cox of Gale Brewer's office, Capt. Gallagher of the Central Park Precinct and his Community Affairs officers, Hillary Rodham Clinton's staff and Secret Service detail, Eileen Macdonald of IATSE Local 1, Anthony Sama of Parks, folks at the Central Park Conservancy, our videographer Emily Dombroff, many staff and crew from NYC Video Pros our event producers, and Anat, Erin and Megan at Anat Gerstein our PR firm.
Our sculptor Meredith Bergmann and her husband Michael helped in every way we asked. Beyer Blinder Belle supported Pam and made sure of the arrival and installation of the Monument.
The work did not end with the unveiling. Many hours have been spent improving the video streamed that day. We urge all our supporters to watch the video now up on our monumentalwomen.org website, Facebook page and YouTube channel, and share the video with all your friends. A lot of lessons were learned that will contribute to the "toolkit" Monumental Women is creating for other groups who wish to honor more women and people of color in their public spaces.
We urge everyone to visit the Women's Rights Pioneers Monument in Central Park and access the Talking Statues component to learn more about Sojourner Truth, Elizabeth Cady Stanton and Susan B. Anthony. We also ask for your continued support for Monumental Women's ongoing challenge to municipalities and women's history education campaigns. We are excited by the projects to come.
---
Talking Statues App
To listen to transcriptions and translations of the sculptor's video, the short documentaries and brief histories of the three women as well as Monumental Women itself narrated by Jane Alexander, Viola Davis, America Ferrara, Rita Moreno, Zoe Saldana and Meryl Streep.
Click to download and you can see/hear the Talking Statues content.
Thank you to the volunteers who helped with the Monumental Women Talking Statues Project: Scriptwriter Joanne Parrent, Narrators Jane Alexander, Viola Davis, America Ferrara, Rita Moreno, Zoe Saldana and Meryl Streep and their teams, Scott Cady, Bobbi Greene, Henry Wolfe, and Emily Dombroff.
---
Photo Credits: NYC Parks / Daniel Avila