The U.S. Woman Suffrage Movement, In Brief
It took 72 years of fierce struggle for American women to win the right to vote, from the 1848 Seneca Falls Convention to the 1920 ratification of the 19th Amendment to the Constitution. As Carrie Chapman Catt wrote: "It was a continuous, seemingly endless, chain of activity. Young suffragists who helped forge the last links of that chain were not born when it began. Old suffragists who forged the first links were dead when it ended." We wish to honor all these women and the movement they represented. Few people know the complete, complicated, compelling story. Alice Paul once said that "freedom comes not as a gift but as a triumph." Monumental Women plans to develop educational materials to tell the triumphant story of woman suffrage to accompany the unveiling of the monument.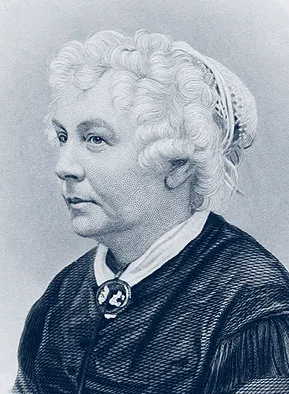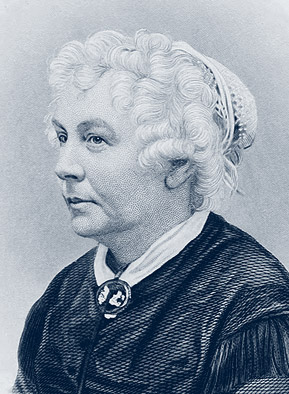 ---
Telling The Complete, Complex, And Compelling Story Of Woman Suffrage: The Start Of Our Women's History Education Campaign
By Pam Elam, President of Monumental Women
This project is all about rethinking the past and reshaping the future. After all, we are considering the largest nonviolent revolution in the history of this nation when over half the population was constitutionally enfranchised. It's an instant history lesson. It's an examination of how social change comes about. It's learning from the past to do a better job of fighting for equality and justice in the future. It's challenging municipalities all across this nation and this world to honor all the people who made those cities great by including tributes to women and people of color in their public spaces. But most of all, it's about completing the journeys toward justice of the valiant women who came before us and achieving the full equality for women that they were denied. It's about the incredible power of moving history forward.
No one can expect that one statue can meet all the needs and desires of so many people who have been waiting so long for it, but our statue project represents a long-overdue beginning and the timing is right as we get ready to celebrate the National Woman Suffrage Centennial of the Ratification of the 19th Amendment and the 200th anniversary of the birth of Susan B. Anthony, both in 2020. We hope that our effort will encourage others to honor the women who inspire them in whatever ways they feel appropriate. We also hope that our upcoming Education Campaign will help make people aware of the vast and varied contributions all women have made to the history of this nation and this world. As a small start to this conversation, we want to share information about some of the many women who were responsible for winning the vote. Here are just a few of them.
---
"Who Was Left Out of the Story"
(National Museum of American History)
Women hoped that suffrage would lead to equality and reform. For many, issues of race, class, citizenship, freedom, and womanhood were intertwined with the quest for voting rights. Gaining the ballot was one part of an ongoing struggle for opportunity, security, and civil rights for their communities. Some, especially Asian immigrants and Native Americans, were barred from citizenship and would not benefit immediately from women's enfranchisement. They nevertheless campaigned for suffrage, believing that they would eventually cast ballots as free and equal citizens of the United States.
---
LUCY BURNS AND ALICE PAUL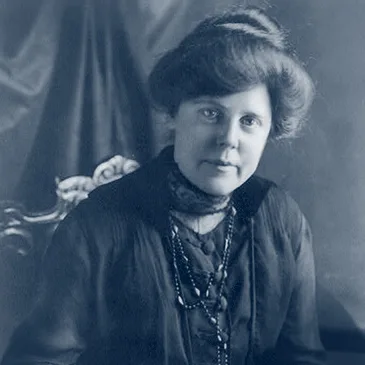 Lucy Burns, the lively Irish lass from Brooklyn, and Alice Paul, the shy Quaker girl from New Jersey, formed an unbeatable partnership that changed the dynamics of the Woman Suffrage struggle. Both were scholars studying abroad when they met while working with the Pankhursts in England and Scotland. Returning to America, they brought their own unique version of nonviolently militant tactics back with them and seized the offensive in the American Woman Suffrage campaign. Doris Stevens, in the classic book Jailed For Freedom, called Paul the "cool strategist" and Burns "the passionate rebel." Inez Haynes Irwin, in The Story of Alice Paul and the National Woman's Party, said "Alice Paul had a more acute sense of justice. Lucy Burns, a more bitter sense of injustice. Lucy Burns would become angry because the President or the people did not do this or that. Alice Paul never expected anything of them."
First, in 1912, leading the Congressional Committee of the National American Woman Suffrage Association, then, in 1913, creating the Congressional Union for Woman Suffrage, and, finally in 1916, forming the National Woman's Party, Burns and Paul challenged both the government led by President Woodrow Wilson as well as the more conservative suffragists. Women were asked to put their own issues first. From 1917 – 1919, Burns, Paul, and members of the National Woman's Party picketed the White House and were attacked by mobs, arrested, and put in prison. They initiated hunger strikes and were subjected to beatings and the torture of forced feeding. It is a chapter of American history that few people know, but it is an absolutely vital part of how women won the vote.
LUCY STONE and her daughter ALICE STONE BLACKWELL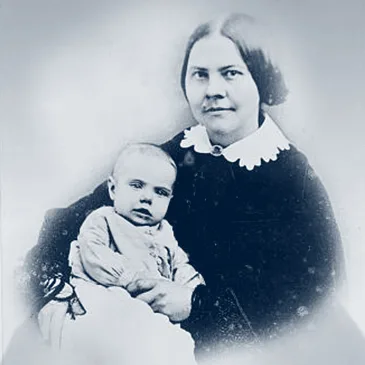 Source: Library of Congress
Lucy Stone was known to many as "the morning star of the woman's rights movement." When she was born, her Mother, Hannah, said sadly: "Oh, dear! I am sorry it is a girl. A woman's life is so hard." Her daughter was to spend her life trying to change that. After working her way through Oberlin College and graduating in 1847, Lucy became a lecturer for the American Anti-Slavery Society. But, before long, her advocacy for the rights of women upset many abolitionists; her reply to them was: "I was a woman before I was an abolitionist. I must speak for the women." So it was agreed that Lucy could lecture on woman's rights on her own during the week, but speak only for the Anti-Slavery Society on weekends. Thus began, a lifetime of work as a teacher, lecturer, abolitionist, feminist, and suffragist.
In 1850, she participated in the first national woman's rights convention in Worcester, Massachusetts, and, thereafter, traveled extensively advocating for women. She married Henry Blackwell in 1855 and refused to take his name, calling herself Mrs. Stone. The term "Lucy Stoner" was then applied by the press to any married woman who kept her birth name. In 1857, their daughter, Alice Stone Blackwell was born. After the Civil War, in 1866, Lucy Stone helped organize and lead the American Equal Rights Association which was to advocate for suffrage for all. When differences with Anthony and Stanton over policy concerning the 14th and 15th Constitutional Amendments and other issues escalated in 1869, she helped found the American Woman Suffrage Association with its weekly newspaper, the Woman's Journal. In 1872, Stone and Blackwell assumed editorship of that publication and for the next forty-seven years, Lucy, Henry, and, later, daughter Alice served as editors of the Woman's Journal. Alice carried on her Mother's legacy in many other ways as well. In 1890, she helped with negotiations to unify the Woman Suffrage Movement by joining Stone's AWSA with Anthony and Stanton's NWSA into the National American Woman Suffrage Association. Alice also wrote a book about her Mother entitled "Lucy Stone – Pioneer of Woman's Rights" which was published in 1930.
MARY CHURCH TERRELL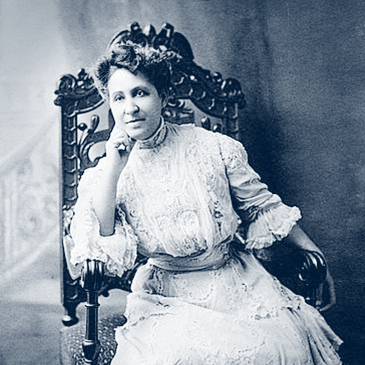 Source: Library of Congress
Mary Church Terrell was the President of the National Association of Colored Women starting in 1896 and continuing, in 1901, as "Honorary President for Life" (by a vote of the organization's members). She campaigned against lynching, fought against discrimination, and organized for Woman Suffrage. Over the years, she participated in conventions of the National American Woman Suffrage Association, the International Council of Women, and the Women's International League for Peace and Freedom. She picketed the White House with the National Woman's Party. Mary Church Terrell lectured across the country and was the author of numerous newspaper and magazine articles as well as the book, "A Colored Woman in a White World." She was a charter member of the National Association for the Advancement of Colored People. In the last decade of her life, she continued her work for equality and justice including, at the age of eighty-nine, leading picket lines in the campaign to desegregate lunchrooms in Washington, D.C.
ROSE SCHNEIDERMAN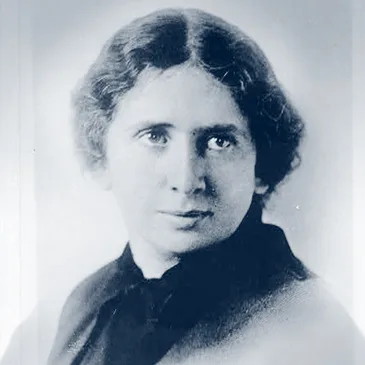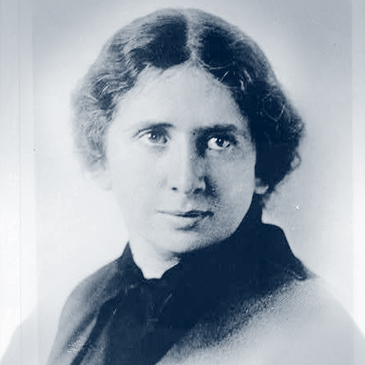 Source: Library of Congress
Excerpts from a summary of Schneiderman's life, written by Annelise Orleck in the Jewish Women's Archive, follow:
"The woman worker needs bread, but she needs roses too," Rose Schneiderman said in 1911. This most famous of Schneiderman's lines captures the essence of the political philosophy that guided her long and extraordinary career as an internationally recognized leader of American working women. For nearly half a century, Rose Schneiderman worked tirelessly to improve wages, hours, and safety standards for American working women. She saw those things as "bread," the very basic human rights to which working women were entitled. But she also worked for such "roses" as schools, recreational facilities, and professional networks for trade union women, because she believed that working women deserved much more than a grim subsistence…Long an ardent suffragist, Schneiderman had helped found the Wage Earner's League for Woman Suffrage in 1911 and toured for the Ohio suffrage referendum in 1912. In January 1917, she launched one final, successful drive to win the vote for New York women. That same year, she was elected president of the NYWTUL.
In 1926, she was elected president of the National WTUL, a post she retained until her retirement in 1950. Her growing interest in labor legislation had also brought her into a circle of women reformers surrounding a new friend of the NYWTUL, Eleanor Roosevelt. As president of the New York Women's Trade Union League (NYWTUL) from 1917 to 1949, and of the National WTUL from 1926 to 1950, Schneiderman served both presidents and governors as a liaison to organized women workers. She was the only woman on FDR's National Recovery Administration Labor Advisory Board. She played a key role in shaping the landmark legislation of the New Deal: the National Labor Relations Act, the Social Security Act, and the Fair Labor Standards Act. She also helped make New York State a national laboratory for labor and social welfare legislation, first as a lobbyist for the NYWTUL from 1911 to 1932, and then as New York Secretary of Labor from 1937 to 1943."
SOJOURNER TRUTH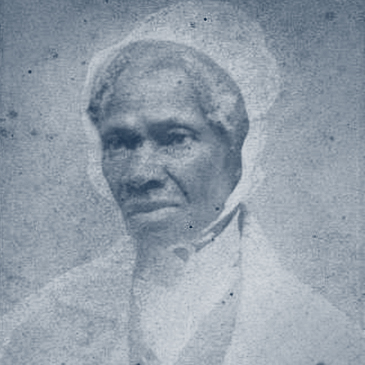 Source: Library of Congress
The website of the National Women's Rights Historical Park offers this summary: "Born into slavery in 1797, Isabella Baumfree, who later changed her name to Sojourner Truth, would become one of the most powerful advocates for human rights in the nineteenth century. Her early childhood was spent on a New York estate owned by a Dutch American named Colonel Johannes Hardenbergh…. she experienced the miseries of being sold and was cruelly beaten and mistreated… In 1827, after her master failed to honor his promise to free her or to uphold the New York Anti-Slavery Law of 1827, Isabella ran away, or, as she later informed her master, 'I did not run away, I walked away by daylight….' After experiencing a religious conversion, Isabella became an itinerant preacher and in 1843 changed her name to Sojourner Truth. During this period she became involved in the growing antislavery movement, and by the 1850s she was involved in the woman's rights movement as well. At the 1851 Women's Rights Convention held in Akron, Ohio, Sojourner Truth delivered what is now recognized as one of the most famous abolitionist and women's rights speeches in American history, 'Ain't I a Woman?' in which she powerfully asserted the rights of women (although it is unlikely she used the exact word "Ain't"). She continued to speak out for the rights of African Americans and women during and after the Civil War. Sojourner Truth died in Battle Creek, Michigan, in 1883."
FRANCES WILLARD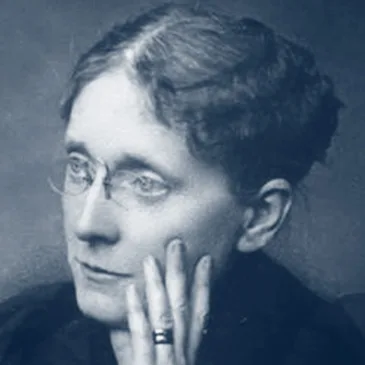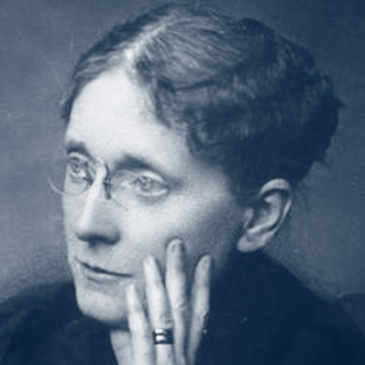 Source: Library of Congress
A summary of her life from Frances Willard House Museum follows:
"Frances Willard, a long-time resident of Evanston, Illinois, was one of the most prominent social reformers of the 19th century and arguably one of the generating influences in America's long history of social justice and activism. Although best known as the president of the Woman's Christian Temperance Union (WCTU), she was a leading activist in many important 19th century reform movements including woman suffrage, women's economic and religious rights, prison reforms, education reforms, and labor reforms, such as child labor laws and the eight hour workday. Many things that we commonly take for granted, like age of consent laws, women's marriage, property and citizenship rights, and alcohol and drug education among many others, had their origins in these movements.
She used the WCTU as an organizing force, advocating for broad social as well as political change, calling this wide program of reform her "Do Everything" policy, reflecting her advocacy not just of temperance but of women's rights, social justice, and world peace. Willard also recognized the need not to simply advocate for women's empowerment, but to provide women with the skills they would need in this new society. Under her leadership, the WCTU grew to be the largest organization of women in 19th century America. She was the first woman to be honored with her likeness in the US Congress Statuary Hall."
ADELINA OTERO-WARREN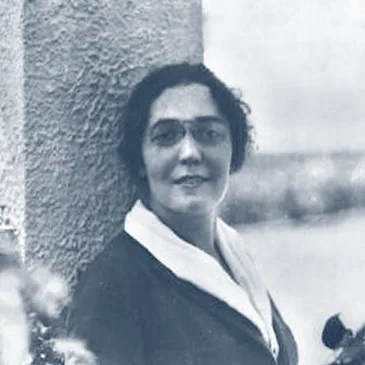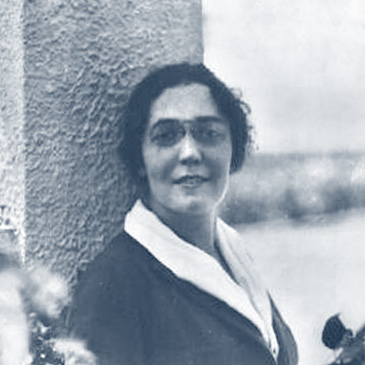 Source: Autry Women of the West Museum
The Autry Women of the West Museum offers this summary:
"Nina Otero-Warren's Spanish conquistador ancestors dramatically altered the social and political landscape in Santa Fe more than three hundred years before she herself made waves as a twentieth-century suffragist, educator, and businesswoman.
Nina Maria Adeline Isabel Emilia Otero was born in Las Lunas, New Mexico, in 1881. Her conservative, prosperous parents traced their heritage to eleventh-century Spain. As Nina grew up, newly built railroads began bringing Anglos, commerce, and rapid change to her hometown. She attended Maryville College in Saint Louis from 1892 to 1894, then moved to Santa Fe when her uncle Miguel Otero was appointed territorial governor of New Mexico. There, she eventually married Lieutenant Rawson Warren in 1908. The marriage was short-lived and she helped raise her siblings after her mother's death. She focused on her professional life and politics, becoming one of New Mexico's most admired female leaders. By 1914, Otero-Warren was drawn to the women's suffrage campaign in New Mexico when Alice Paul's Congressional Union (forerunner of the Woman's Party) sent talented organizers into the state. Otero-Warren soon rose to leadership ranks in the state Congressional Union (CU), rallying support among both Spanish and English-speaking communities. Her family connections helped as well, as she was the niece of the popular head of New Mexico's Republican Party. Although New Mexico never legalized women's right to vote prior to ratification of the 19th Amendment, Otero-Warren's patient but incessant badgering of the New Mexico congressional delegation convinced them to vote in favor of the amendment in 1920.
From 1917 to 1929, Otero-Warren served as one of New Mexico's first female government officials, as Santa Fe Superintendent of Instruction, and chair of the State Board of Health. By 1922, she won the Republican Party nomination to run for the U.S. House of Representatives. Although she lost her bid for Congress, a few years later she was appointed as state director of the federal Civilian Conservation Corps (CCC) by President Franklin Delano Roosevelt. Otero-Warren's contributions to her community were not just in the political realm. She headed efforts to preserve historic structures in Santa Fe and Taos and built close ties with the artists, writers, and intellectuals who congregated in the area during the 1930s and 1940s. She was instrumental in renewing interest in and respect for Hispanic and Indian culture."
IDA B. WELLS-BARNETT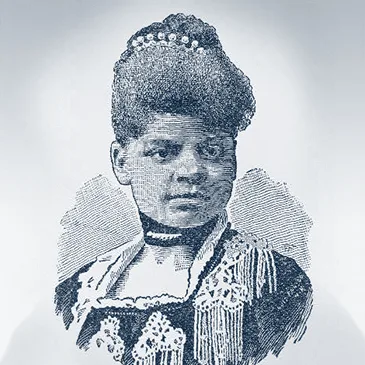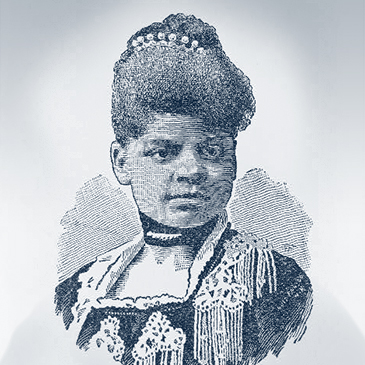 Source: Library of Congress
Ida B. Wells-Barnett was a teacher, journalist, lecturer, author, suffragist, and crusader. Her courage and tenacity were legendary. Wells-Barnett challenged discrimination wherever she found it, whether on the Chesapeake & Ohio Railroad when she refused to sit in the "colored" section, or as a newspaperwoman and editor of the Memphis Free Speech, or leading campaigns against lynching. Wells-Barnett sued the Railroad, dared to write articles challenging the racism around her, and forced the nation to confront the horror of lynching. She lectured around the country and founded anti-lynching societies and pro-Woman Suffrage women's clubs.
Ida B. Wells-Barnett made Chicago her home and continued organizing social and civic projects, like the Negro Fellowship League, for the good of her community. She challenged both moderate Black leaders and conservative white suffragists. She founded one of the country's first Woman Suffrage organizations for African-American women, the Alpha Suffrage Club of Chicago. Wells-Barnett marched in suffrage parades, acted as secretary of the National Afro-American Council, served as a probation officer for the Chicago Municipal Court, was a founder of the Cook County League of Women's Clubs, worked with Jane Addams to fight against segregated schools, and ran for political office.
LUCRETIA MOTT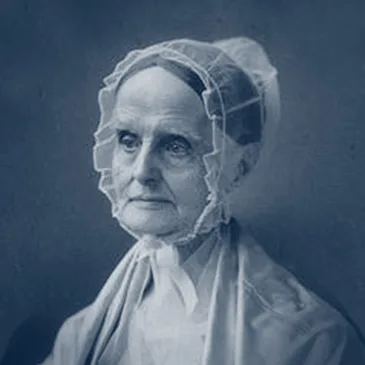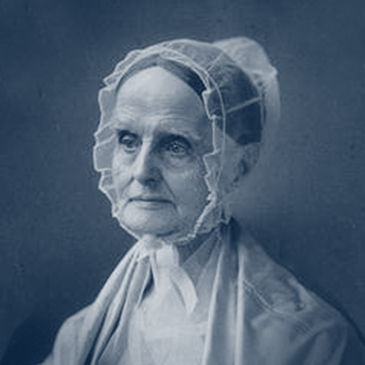 Source: Library of Congress
The website of the National Women's Rights Historical Park offers this summary: "One of eight children born to Quaker parents on the island of Nantucket, Massachusetts, Lucretia Coffin Mott (1793-1880) dedicated her life to the goal of human equality. As a child Mott attended Nine Partners, a Quaker boarding school located in New York, where she learned of the horrors of slavery from her readings and from visiting lecturers. She also saw that women and men were not treated equally, even among the Quakers, when she discovered that female teachers at Nine Partners earned less than males. At a young age Lucretia Coffin Mott became determined to put an end to such social injustices. In 1833 Mott, along with Mary Ann M'Clintock and nearly 30 other female abolitionists, organized the Philadelphia Female Anti-Slavery Society. She later served as a delegate from that organization to the 1840 World Anti-Slavery Convention in London. It was there that she first met Elizabeth Cady Stanton, who was attending the convention with her husband Henry, a delegate from New York. Mott and Stanton were indignant at the fact that women were excluded from participating in the convention simply because of their gender, and that indignation would result in a discussion about holding a woman's rights convention. Eight years later, on July 19 and 20, 1848, Mott, Stanton, Mary Ann M'Clintock, Martha Coffin Wright, and Jane Hunt acted on this idea when they organized the First Woman's Rights Convention. Throughout her life Mott remained active in both the abolition and women's rights movements. She continued to speak out against slavery, and in 1866 she became the first president of the American Equal Rights Association, an organization formed to achieve equality for African Americans and women."
CARRIE CHAPMAN CATT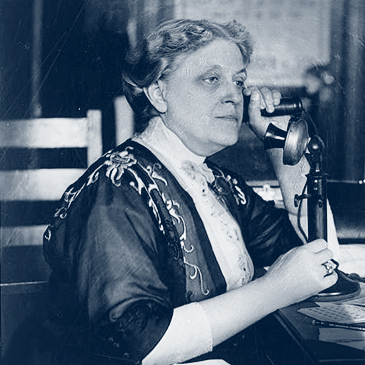 Source: Library of Congress
The following summary comes from the Library of Congress: "Key coordinator of the suffrage movement and skillful political strategist, "Carrie (Lane) Chapman Catt revitalized the National American Woman Suffrage Association (NAWSA) and played a leading role in its successful campaign to win voting rights for women. Carrie Lane was born in Wisconsin in 1859. At the age of seven, her family moved to Iowa, where Lane began preparatory schooling. In 1880, she graduated from Iowa State College at the top of her class. After college, she worked as a law clerk, a school teacher, and a principal in Mason City, Iowa. In 1883, at the age of twenty-four, she became one of the first women to be appointed superintendent of schools. In February 1885, Lane married Leo Chapman, editor and publisher of the Mason City Republican, who died of typhoid fever the following year in San Francisco, California, where he had gone seeking new employment. Arriving a few days after her husband's death, the young widow decided to remain in San Francisco, where she eked out a living as the city's first female newspaper reporter. In 1887, Chapman returned to Charles City, Iowa, and joined the Iowa Woman Suffrage Association for whom she worked as a professional writer and lecturer. From 1890 to 1892, she served as the Iowa Association's state organizer. In June 1890, Chapman married George Catt. During this time, Catt also began work nationally for the National American Woman Suffrage Association. In 1892, she was asked by Susan B. Anthony to address Congress on the proposed suffrage amendment. In 1900, she succeeded Anthony as NAWSA president. In 1902, Catt helped to organize the International Woman Suffrage Alliance (IWSA), which eventually incorporated sympathetic associations in thirty-two nations. In 1904, she resigned her NAWSA presidency in order to care for her ailing husband. Grief-stricken over the dual deaths of George Catt (October 1905) and Susan B. Anthony (February 1906), Catt was encouraged by her doctor and her friends to travel abroad. As a result, she spent much of the following nine years as IWSA president promoting equal-suffrage rights worldwide. In 1915, Catt returned to the United States to resume the leadership of NAWSA.. In 1916, at a NAWSA convention in Atlantic City, New Jersey, Catt unveiled her "Winning Plan" to campaign simultaneously for suffrage on both the state and federal levels, and to compromise for partial suffrage in the states resisting change. Under Catt's dynamic leadership, NAWSA won the backing of the House and Senate, as well as state support for the amendment's ratification. In 1917, New York passed a state woman suffrage referendum, and by 1918, President Woodrow Wilson was finally converted to the cause. On August 26, 1920, the Nineteenth Amendment officially became part of the United States Constitution. Stepping down from the presidency of NAWSA after its victory, Catt continued her work for equal suffrage, founding the new League of Women Voters, and serving as its honorary president for the rest of her life. In 1923, she published Woman Suffrage and Politics: The Inner Story of the Suffrage Movement. In her later years, Catt's interests broadened to include the causes of world peace and child labor. She founded the National Committee on the Cause and Cure of War, serving as its chairperson until 1932, and honorary chair thereafter. She also actively supported the League of Nations. Carrie Chapman Catt died of heart failure in New Rochelle, New York, on March 9, 1947.
ANNA HOWARD SHAW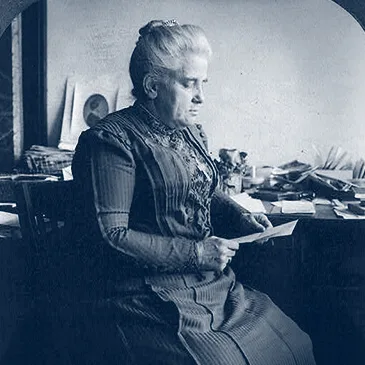 Source: Library of Congress
Here are excerpts from Shaw's July 3, 1919 Obituary in The New York Times:
"Dr. Anna H. Shaw, Suffragist, Dies"
PHILADELPHIA, July 2.–"Dr. Anna Howard Shaw, honorary President of the National American Woman's Suffrage Association, died at her home in Moylan, Penn., near here, at 7 o'clock this evening. She was 72 years old. Dr. Shaw also was Chairman of the Woman's Committee of the Council of National Defense and recently was awarded the Distinguished Service Medal for her work during the war.
She was taken ill in Springfield, Illinois, about a month ago while on a lecture tour with former President Taft and President Lowell of Harvard University, in the interest of the League of Nations…Dr. Shaw continued her active participation in public affairs to the last. Immediately preceding the great war, in the early Summer of 1914, Dr. Shaw went to Rome as Chairman of the Committee on Suffrage and Right of Citizenship at the quinquennial season of the International Council of Women…
In the death of the Rev. Dr. Anna Howard Shaw there was brought to a close a life crowded with activities from her earliest youth until her last illness, a career as remarkable as it was rare. The whole course of her life was bent upon human betterment, and she was for many years a leader, especially in the cause of woman suffrage.
Dr. Shaw was born at Newcastle-on-Tyne, Eng., Feb. 14, 1847, and came to America with her parents in 1853, being nearly shipwrecked on the way over. When she was 9 years old her parents went from Massachusetts to Michigan, settling in what was then a wilderness, 40 miles from a post office and 100 miles from a railroad. In The Story of a Pioneer, which Dr. Shaw published in 1915, she told the interesting story of her life. The family endured many hardships in that sparsely populated region…
When she was 15 she began teaching school, receiving $4 a week and walking eight miles a day… She was determined to have a college education, and by preaching and lecturing, which was frowned upon by members of her family and friends, she managed to pay her way through Albion College, where she studied from 1872 to 1875… She later went to the Theological School of Boston University, where she was graduated in 1878…On account of her sex, she was refused when applying for ordination by the New England Conference and by the General Conference of the Methodist Episcopal Church, but in the same year had the honor of being the first woman ordained by the Methodist Protestant Church. In her struggles to become a minister she fought against ridicule, dissension, and lack of the barest necessities…She received a local preacher's license from the District Conference and in 1878 was pastor of the Methodist Episcopal Church at Hingham, Mass., and from 1878 to 1885 she was pastor at East Dennis, Mass. She was ordained by the Methodist Protestant Church on Oct. 12, 1880. While serving as pastor of the Dennis congregation Dr. Shaw studied medicine also at Boston University, graduating with the M.D. degree in 1885. Kansas City University conferred on her the honorary degree of D. D. in 1902 and the LL.D. degree in 1917. When the suffrage movement began to show increasing energy in 1885, Dr. Shaw resigned her pastorate to devote her life to a fight for temperance, suffrage, and social purity. She became the lecturer for the Massachusetts Woman's Suffrage Association, and from 1886 to 1892 she was national superintendent of franchise of the Women's Christian Temperance Union…On the resignation of Dr. Shaw's most intimate friend, Susan B. Anthony, in 1900, the Presidency of the National Woman's Suffrage Association rested between Dr. Shaw and Mrs. Carrie B. Chapman, whom Miss Anthony finally chose as being the more experienced, while Dr. Shaw was made Vice President-at-Large. She had been national lecturer for the organization since 1886 and continued in this work until 1904, when Mrs. Chapman Catt was compelled to resign the Presidency and Dr. Shaw succeeded her as head of the National Association. She served in this capacity until 1915, when she declined re-election…"
ABIGAIL SCOTT DUNIWAY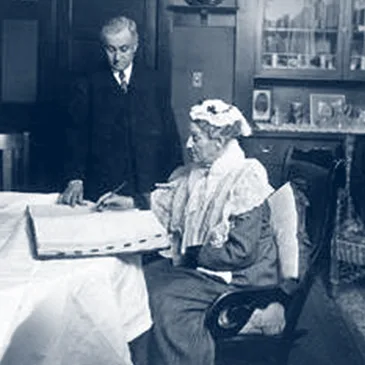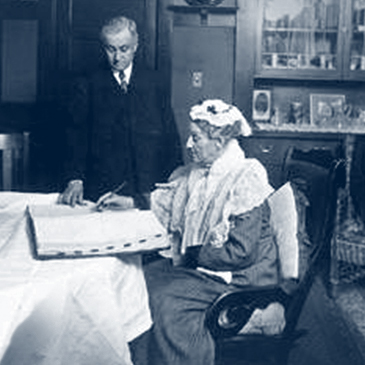 Source: Autry Women of the West Museum
The Autry Women of the West Museum offers this summary:
"Abigail Jane Scott was born in Illinois in 1834. When she was seventeen years old, her life changed dramatically with the death of her mother and brother during the family's grueling trek to Oregon in an ox-drawn cart. Abigail's family settled in Lafayette, Oregon, where she began a career as a schoolteacher. Just one year later, she married Benjamin C. Duniway. By 1859, while Duniway filled her days caring for children and farm chores, she found time in the late evenings to pen her first novel, Captain Gray's Company. Her writing skills literally kept the family afloat and Abigail was now the breadwinner. A move to Portland in 1871 offered the family a new start. The women's rights movement was small but active in Portland, and Duniway decided that a women's newspaper would offer income as well as a valuable outlet for her writing talents. She founded the New Northwest during her first year in Portland, after an inspiring visit from national suffrage leader Susan B. Anthony. Duniway edited the newspaper for the next sixteen years. She found time to lecture on temperance and women's rights as well, and was active in the Portland Women's Club. Duniway's reputation grew throughout the entire region, with speaking engagements pouring in. National suffrage leaders called on her to serve as a vice president in the National Women's Suffrage Association in 1884. Traveling some 12,000 miles and giving more than 140 lectures, Duniway turned her full attention to the Idaho campaign. With local women taking charge, Duniway led the suffrage referendum campaign in Idaho to victory in 1896. She helped mastermind the campaign to victory in Washington State as well in 1910. Duniway's efforts to win the right to vote in her home state of Oregon proved much more demanding. From 1884 to 1910, Oregon's male voters defeated suffrage five times at the polls. Finally, in 1911, Duniway and her forces mustered the courage to take the issue before the intransigent voters one last time. She led the Oregon Equal Suffrage Association to victory at the polls in 1912. On November 30, 1912, Duniway signed Oregon's suffrage proclamation and became the first woman in her state to register to vote. Duniway's remarkable career as a journalist, lecturer, and suffrage organizer ended when she died in 1915. Her autobiography, Pathbreaking, remains a powerful memoir of her forty years of service to women's rights."
INEZ MILHOLLAND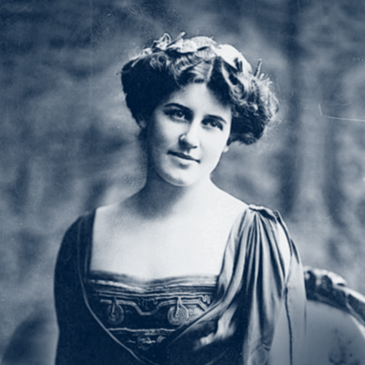 Source: Library of Congress
The material below is from The Sewall-Belmont House and Museum:
"Born in New York on August 6, 1886, Inez Milholland learned the importance of human rights from her father, a newspaper editorialist and a reformer with the National Association for the Advancement of Colored People (NAACP). Milholland attended Vassar College. When Harriet Stanton Blatch was forbidden to speak on campus, Inez gathered about fifty of her classmates to hear the suffragist speak in a cemetery. In 1908, Inez famously became known as 'the girl who broke up the Taft parade.' She was so compelling that hundreds of men left the parade to see and hear her speak. By the time she graduated from Vassar in 1909, she had recruited two-thirds of the student body to join her Vassar Votes for Women Club. In addition to suffrage, Milholland was a political activist for other causes. She was arrested after picketing with striking women shirtwaist workers, and after earning a law degree in 1912 from New York University, wrote a report on harsh prison conditions at Sing Sing. She married Dutch businessman, Eugen Jan Boissevain, in 1913. As a labor attorney, Inez was involved with the Women's Trade Union League, the National Association for the Advancement of Colored People, and the National Child Labor Committee. In 1913, she was recruited to the NAWSA Congressional Committee by Alice Paul. She famously led the pre-inaugural suffrage parade held in Washington, D.C. on March 3, 1913. Labeled the "American Joan of Arc," she rode at the front of the procession of 8,000 participants, astride a white horse and wearing a flowing white cape. She carried a banner that proclaimed, "Forward Out of Darkness, Leave Behind the Night, Forward Out of Error, Forward Into Light," the eventual slogan of the National Woman's Party. Inez quickly rose in prominence as the public face of the suffrage movement. In 1915, she traveled to Europe as a journalist and correspondent during World War I. Her articles angered the Italian government, and they ousted her from the country. Upon her return in 1916 to the U.S., she embarked on a speaking tour of twelve western suffrage states on behalf of the Congressional Union for Woman Suffrage. As one of the most famous leaders of the CU, Milholland had a talent for captivating audiences. Despite pleas from her doctor to rest, Milholland worked incessantly, and eventually collapsed during a speech in Los Angeles in the fall of 1916. According to reports, the last words she spoke before fainting were, "Mr. President, how long must women wait for liberty?" Milholland died of pernicious anemia at the age of thirty on November 25, 1916. Her sudden and untimely death shocked the nation, and Milholland was instantly declared a martyr of the suffrage movement. Alice Paul organized a memorial service held in her honor in Statuary Hall in the U.S. Capitol on Christmas Day, 1916. Paul carried the banner Milholland displayed in the 1913 parade."
MATILDA JOSLYN GAGE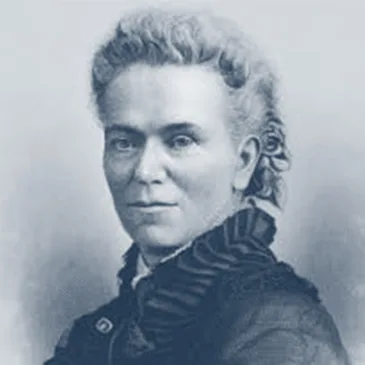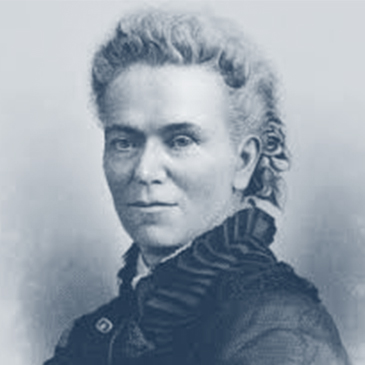 Source: Library of Congress
This summary of Gage's life comes from the Matilda Joslyn Gage Foundation:
"Matilda Joslyn Gage was born on March 24, 1826, in Cicero, New York. An only child, she was raised in a household dedicated to antislavery. Her father, Dr. Hezekiah Joslyn, was a nationally known abolitionist, and the Joslyn home was a station on the Underground Railway. In 1845 she married merchant Henry Hill Gage, with whom she would have four children. They eventually settled in Fayetteville, New York, and their home became a station on the Underground Railroad. Although occupied with both family and antislavery activities, Gage was drawn to a new cause: the woman's suffrage movement. Her life's work would become the struggle for the complete liberation of women. Unable to attend the first Woman's Rights Convention held in Seneca Falls in 1848, Gage attended and addressed the third national convention in Syracuse in 1852. She became a noted speaker and writer on woman's suffrage. During the Civil War, Gage was an enthusiastic organizer of hospital supplies for Union soldiers. In 1862 she predicted the failure of any course of defense and maintenance of the Union that did not emancipate the slaves. Gage, along with Susan B. Anthony and Elizabeth Cady Stanton, was a founding member of the National Woman Suffrage Association and served in various offices of that organization (1869-1889). She helped organize the Virginia and New York state suffrage associations, and was an officer in the New York association for twenty years. Gage was one of the women who wrote and presented the "Women's Declaration of Rights" at the 1876 Protest at the National Centennial celebration. From 1878 to 1881 she published the National Citizen and Ballot Box, the official newspaper of the NWSA. In 1871 Gage was one of the many women nationwide who unsuccessfully tried to test the law by attempting to vote. When Susan B. Anthony successfully voted in the 1872 presidential election and was arrested, Gage came to her aid and supported her during her trial. In 1880 Gage led 102 Fayetteville women to the polls in 1880 when New York State allowed women to vote in school districts where they paid their taxes. During the 1870s Gage spoke out against the brutal and unfair treatment of Native Americans. She was adopted into the Wolf Clan of the Mohawk nation and given the name Ka-ron-ien-ha-wi (Sky Carrier). Inspired by the Six Nation Iroquois Confederacy's form of government, where 'the power between the sexes was nearly equal,' this indigenous practice of woman's rights became her vision. Gage coedited with Stanton and Anthony the first three volumes of the six-volume The History of Woman Suffrage (1881-1887). She also authored the influential pamphlets Woman as Inventor (1870), Woman's Rights Catechism (1871), and Who Planned the Tennessee Campaign of 1862? (1880). Gage formed the Women's National Liberal Union in 1890, to fight moves to unite church and state. Her book Woman, Church and State (1893) articulates her views. Gage died in Chicago, Illinois, on March 18, 1898. Her lifelong motto appears on her gravestone in Fayetteville: 'There is a word sweeter than Mother, Home or Heaven; that word is Liberty.'"
ALVA BELMONT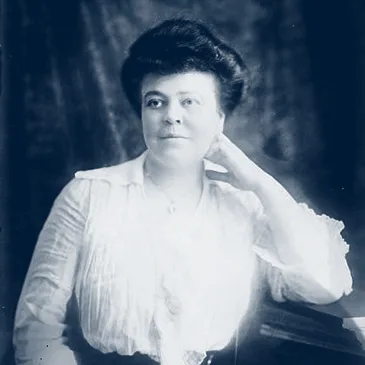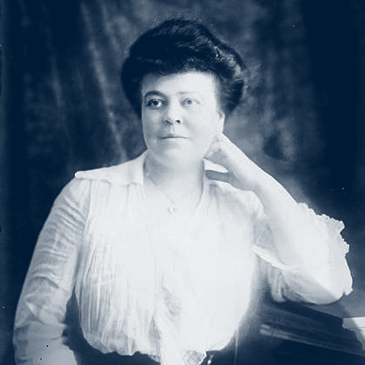 Source: Library of Congress
This summary of Belmont's life is from the Sewall-Belmont House and Museum:
"The Sewall-Belmont House is named for the benefactor of the National Woman's Party (NWP), Alva Belmont. An ardent feminist and agitator for women's equality, Belmont was devoted to women's equality, and donated thousands of dollars to the NWP to advance its work for national and international women's rights. Born in 1853 on an Alabama cotton plantation, Alva Belmont claimed she learned of women's inequality as a child when she was told that girls were not supposed to run or climb trees. At 22, she married William Kissam Vanderbilt, the second son of William H. Vanderbilt, owner of the Grand Central Railroad. In 1895, they divorced and Belmont received a substantial monetary settlement and Marble House in Newport, Rhode Island. One year later, she married Oliver H. P. Belmont. Alva dedicated her life to women's causes after Oliver's death in 1908, including support of the garment workers strike, where she pushed for a boycott of nonunion dress manufacturers. In 1909, she founded the Political Equality Association in New York, working under the umbrella of the National American Woman Suffrage Association (NAWSA). In 1909-1910, Alva coordinated and funded the move of the NAWSA headquarters from Ohio to New York City. In 1909, Belmont witnessed a Pankhurst rally at the Royal Albert Hall in London, and it soon became clear to the NAWSA that she was more militant than conservative. In 1914, Belmont broke from the NAWSA and turned her focus to Alice Paul and the Congressional Union for Woman Suffrage, whose strategy was more in line with Belmont's… From 1914 to 1920, she served on the executive board of organization. In August 1914, she hosted the Congressional Union conference at Marble House in Newport, Rhode Island and opened a summer headquarters for the organization. Belmont also helped shape the new CU/NWP policy of holding the party in power, the Democratic Party, responsible for not adopting a federal suffrage amendment. Additionally, Belmont was also the one to suggest the need for "a women's party" and pushed the CU to rebrand itself as the National Woman's Party in 1916. After passage of the 19th Amendment, Belmont became the president of the NWP, a position she held until her death in 1933. At the same time, Belmont's views on women's equality became more extreme. She argued for the NWP to become a third American political party to form a wedge between the Democrats and Republicans, and for the election of a female president. Vowing to vote only if—and when—a female was nominated for President of the United States, Alva never utilized the right she so strongly fought for. Although Alice Paul privately agreed with Belmont's views, she tactfully persuaded Belmont to support the Equal Rights Amendment instead believing this to be the best way for the NWP to make a change to women's status. Alva Belmont's financial contributions helped sustain the NWP, and all policy matters required her approval. During the 1920's Belmont moved to France where she settled permanently and her focus shifted to international women's equality issues. In 1926, she formed the International Feminist Committee, which later became the International Advisory Committee of the NWP. She died in 1933 in France where she lived her later years. Her funeral at St. Thomas Episcopal Church in New York City featured all female pallbearers and was attended by approximately 1,500 people. Having left strict instructions regarding her wishes for the service, Belmont's coffin was draped with one of the picket banners with the slogan "Failure is Impossible."
FRANCES ELLEN WATKINS HARPER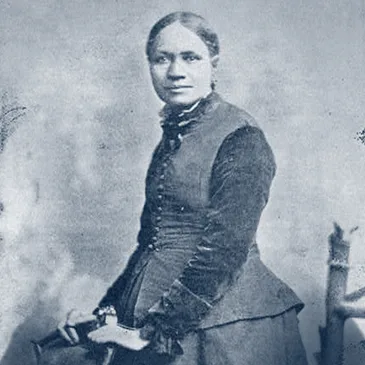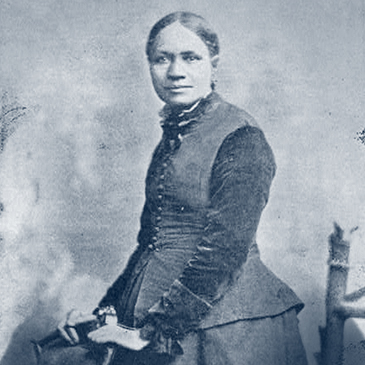 Source: Library of Congress
The website of the National Women's History Museum offers this summary: "Frances Ellen Watkins Harper, African American lecturer, author, and suffragist, was the best known Black poet since Phillis Wheatley. Her antislavery verse, Poems on Miscellaneous Subjects (1854), sold thousands of copies and "The Two Offers"(1859) was the first short story published by an African American. Touring Southern Freedmen's communities, she lectured on education and morality as racial uplift, and denounced white racial violence. Her suffrage work was long-standing. In the split among suffragists over the 15th Amendment, Harper favored voting rights for Black men; she affiliated with the American Woman Suffrage Association, and delivered speeches at its conventions. Born in Baltimore of free Black parents, she was orphaned before she was 3. Reared by an uncle, whose school for free Blacks she attended, Harper was first a teacher, then a lecturer for the Maine Anti-Slavery Society. She married Fenton Harper in 1860, but was widowed within 4 years and returned to lecturing. Her Southern travels resulted in several narrative poems. She became head of the African American department of the Woman's Christian Temperance Union. She helped organize the National Association. of Colored Women's Clubs and became vice-president. She died in Philadelphia at 85.
ESTHER HOBART MORRIS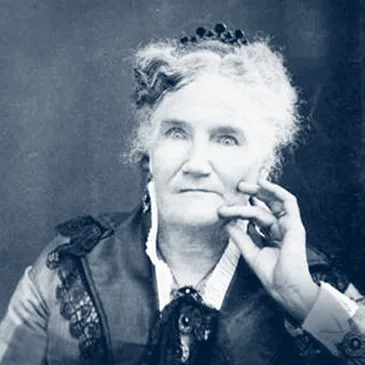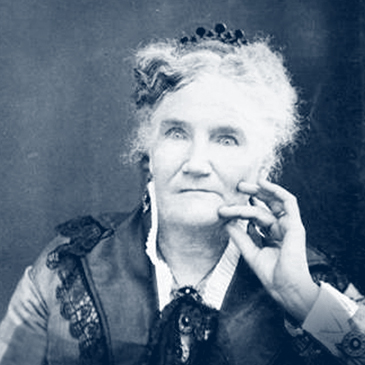 Source: Autry Women of the West Museum
Summary below is from The Autry Women of the West Museum:
"Esther Hobart Morris was born in Tioga County, New York, on August 8, 1814. At age eleven Esther's parents died, leaving her an orphan. A seamstress took her in, where she learned valuable skills as a seamstress and hat maker. As a young, independent businesswoman, Esther joined the anti-slavery movement. She married but in 1845 sadly found herself a widow. She moved to Illinois, where she married her new and prosperous husband, John Morris. Like so many Americans, Esther and John caught "gold fever" after the Civil War. They heard about the rich ore deposits in the mining camps of the Rocky Mountains, and so in 1869 they packed up their belongings and moved to the gold camp of South Pass City, Wyoming. Morris's past involvement in the anti-slavery and women's rights movement spurred her to suggest that the new territory of Wyoming could make world history by granting women the right to vote. Legalized women's suffrage would 'prove a great advertisement,' she felt, inducing more women and families to settle in Wyoming. Morris lobbied the twenty-two members of the territorial legislature. In 1869, upon the urging of his wife, Julia, William Bright introduced a suffrage measure to the legislature. Passage of this landmark suffrage law that same year helped make Wyoming famous as the "Equality State." Other laws that passed that year gave married women the right to own property, the right to serve on juries, and equal pay for female teachers. Morris's diligent work on behalf of women in Wyoming Territory earned her an appointment as the first female justice of the peace in South Pass City, the nation, and the world. When Wyoming entered the union as the Equality State in 1890, Morris was honored nationally as a suffrage pioneer. She died in Cheyenne, Wyoming, on April 2, 1902."
JOSEPHINE ST. PIERRE RUFFIN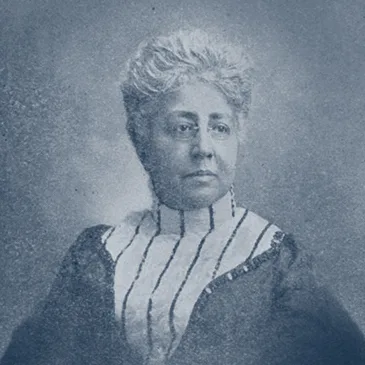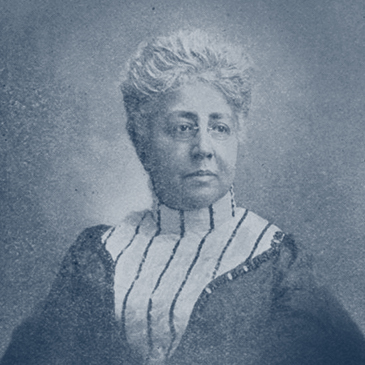 Source: New York Public Library Digital Collection
The Biography.com website offers this summary: "Born on August 31, 1842, in Boston, Massachusetts, Josephine St. Pierre Ruffin spent much of her life fighting against racial and gender discrimination. Her father was of African descent, and her mother came from a white English background. Ruffin's family was a part of Boston society. In 1858, Josephine married George L. Ruffin, a pioneering African American lawyer. He also became one of the state's first black judges. The couple was active in the abolitionist movement.
In 1879, Ruffin created the Boston Kansas Relief Association. The organization was dedicated to helping African Americans settle in Kansas. After the death of her husband in 1888, Ruffin became even more involved in social activism. She became the editor of The Woman's Era, a newspaper devoted to the needs and concerns of African American women. In 1894, Ruffin formed the Women's New Era Club of Boston and served as its first president. She also brought together several African-American women's groups for the First National Conference of Colored Women in 1895. The following year, the National Federation of Afro-American Women, the Woman's Era Clubs of Boston and the Colored Women's League of Washington, D.C., merged to become the National Association of Colored Women. Ruffin was also active in the women's suffrage and the temperance movements. She was member of the Massachusetts School Suffrage Association and the Massachusetts Moral Education Association.
HARRIOT STANTON BLATCH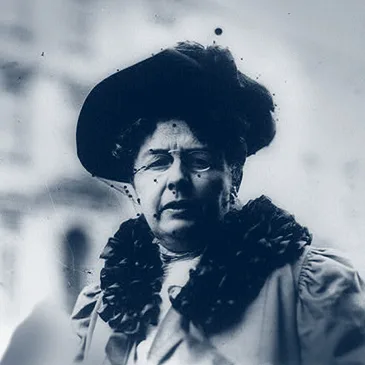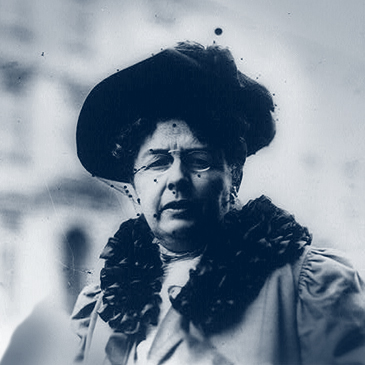 Source: Library of Congress
Harriot Stanton Blatch, the daughter of Elizabeth Cady Stanton, not only carried on her Mother's Legacy, but became a leader herself in the New York State campaign for Woman Suffrage. However, she followed a rather winding road. Harriot lost her American citizenship when, in 1882, she married an English businessman and moved to Basingstoke, a town near London. There she raised a family and participated in various political activities. After twenty years abroad, Harriot returned to New York State from England, in 1902, and started organizing for women's rights. She brought with her a more activist approach to politics that she had learned in England from Emmeline Pankhurst, among others. Harriot was deeply interested in the plight of working women and, in 1906, created the Equality League of Self-Supporting Women. Thousands of women employed in factories, laundries, and garment shops joined the League and participated in its open-air meetings, parades, and lobbying efforts. In 1910, the name of the group changed to the Women's Political Union, but the purpose of the organization remained the same – to obtain a State constitutional amendment for Woman Suffrage. Harriot Stanton Blatch was an excellent lobbyist in Albany and brought a new level of energy and enthusiasm to the Suffrage Campaign. However, the political differences between Harriot Stanton Blatch and Carrie Chapman Catt led to a major falling out between the two women. The Women's Political Union eventually merged with the Congressional Union (later the National Woman's Party) led by Alice Paul and Lucy Burns to work for a federal Woman Suffrage amendment and, after that, the passage of the Equal Rights Amendment. When the United States entered World War I, Harriot devoted much of her time to the Women's Land Army and other efforts to support the war. In addition, she wrote books, ran for public office, supported the League of Nations, and worked for world peace.